HOME
Welcome to the Ideas Bank
The Ideas Bank is a pioneering system that matches those ideas that have been through the i2m process with business experts that guide those ideas to commercial success.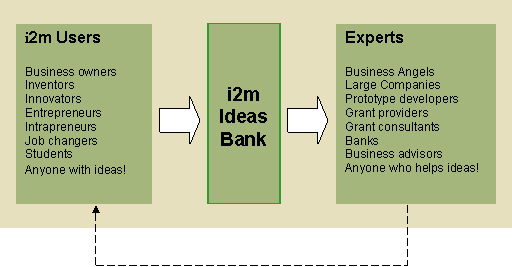 The process is simple…
1. Upon completion of i2m, the user decides if they would like further assistance. If so they outline what require. This could include "Investment", "IT hardware" "grant", "prototype", "UK South East"
2. The i2m user then submits their fully researched Business Proposition to the Ideas Bank. This contains NO confidential information.
3. Once it reaches the Ideas Bank, the organisations and individuals who have registered to help new business ideas are alerted by email, should it match the criteria they have specified. This email will prompt them to log in to i2mOnline to check their account. Here they can view the submitted Business Proposition.
4a. If the proposition does not seem relevant or is not of interest, the business expert would take no action.
4.b If the proposition is of interest to the business expert they are able to contact thei2m user directly using the email details provided.
(At this i2mOnline is no longer part of the process)
5. Should the user wish to, a conversation can then take place between the i2m user and the business expert. The i2m user has up to now disclosed no confidential information. Should they choose to i2mOnline strongly recommend AT LEAST a confidentiality agreement is put in place (a template of which can be found in resources). However, legal advice may be appropriate depending on the nature of the discussion.
Key facts you should know…
Nobody ever sees confidential information within the i2mOnline process, including in the Ideas Bank.
i2mOnline does not take any percentage of any investment or deal that is brokered through the ideas Bank. We are here purely to introduce you. What happens after that introduction is between the i2m customer and the business support provider.
What we do insist on is that all business support providers provide two references of ideas they have assisted in the recent past.
There are no false promises, no guarantees of investment or of success. What we do promise to provide is rapid access to a virtual network unrivalled in its direct relevance to you and what you are seeking.
The number of registrations in the ideas bank is growing rapidly from locations around the world.
The best way to see it works is to sign up…its free!